Review of Ivy League Plus Stanford and MIT Class of 2012 — Entering Fall 2008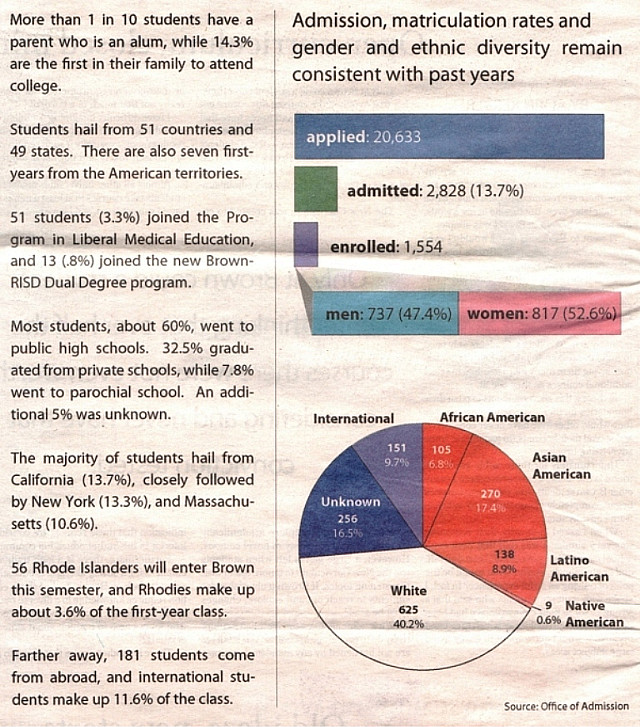 ▲Brown University The Class of 2012
◆BROWN

Brown University admitted 2,742 students - 555 of them through early decision. A total of 20,604 applications were read for regular and early decision admissions slots, an 8 percent increase over last year's pool of 19,059. The University set a record low admission rate of 13.3 percent, admitting 2,187 applicants through regular decision.


◆COLUMBIA

Columbia admitted 2,669 students out of 22,579 applications for a combined admit rate of 10 percent. Columbia College received a total of 19,116 applications, a 5.7 percent increase from last year's numbers, and admitted only 1,660. The overall admit rate of 8.7 percent is the lowest ever in the College's history. The Fu Foundation School of Engineering and Applied Science experienced a similar surge in the number of applications received, admitting 609 students out of a pool of 3,463, for an admit rate of 17.6 percent.

This year, early decision admits accounted for 27.4 percent of CC's incoming class of 2012, and for 23.3 percent of SEAS' incoming class.

Overall

Early Round

Regular Decision

Columbia
Admit
Applied
Admit Rate
Admit
Applied
Admit Rate
Admit
Applied
Admit Rate
CC
1,660
19,116
8.68%
454
2,011
22.58%
1,206
17,105
7.05%
SEAS
609
3,463
17.59%
140
418
33.49%
469
3,045
15.40%
Combined
2,269
22,579
10.05%
594
2,429
24.45%
1,675
20,150
8.31%


◆CORNELL

According to its Office of Admissions and Enrollment, Cornell has received an all-time high of 33,011 applications for freshman admission, for the Class of 2012. The record number of applicants represents a 9 percent increase over last year and a 17 percent increase over the past two years -- which also were record years. The overall admit rate reported by Cornell is 20.4 percent, slightly down from last year's admit rate of 20.5 percent. A total of 3,432 students were offered a place on the waitlist and 19,305 students were denied admission.

The statistics reported by Cornell, however, fail to account for about 6 to 7 percent of applicants who do not complete the process and another 3 to 4 percent who withdraw before the notification date. In spite the claim that is typical for most institutions of higher education, many institutions that use the Common Application but require additional material have been forced to exclude incomplete applications.


◆DARTMOUTH

Dartmouth extended offers of admission to 2,190 applicants for its Class of 2012, from a pool of 16,536 - the largest of number of applicants in the College's history and 2,361 more than applied for last year's entering class -- an increase of more than 16.6 percent.

The admissions rate was tighter this year at 13.2 percent, down by two percent from the 2011 class rate. Approximately 1,080-1,090 of those admitted are expected to matriculate at Dartmouth next fall.



◆HARVARD

Harvard accepted a record low 7.1 percent of applicants to the Class of 2012. 1,948 high school seniors—about 100 fewer than last year— were selected from a pool of 27,462 applicants. The pool reflected an 18-percent increase from 22,955 last year when about 9 percent were admitted.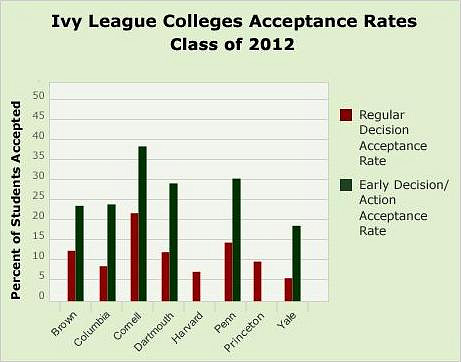 ◆PENN

Penn admitted a total of 3,769 of 22,922 applications. Last year, 22,646 students applied and 3,628 were accepted - a rate of 16 percent. In contrast to the other Ivy League schools, Penn's overall acceptance rate increased to 16.4 percent for the class of 2012. Penn is the only Ivy League school thus far that has not reported a record-low acceptance rate.

The number of regular decision applicants accepted also increased, from 2,450 to 2,622. The regular-decision acceptance rate was 13.9 percent this year, up from 11 percent last year. The number of international students accepted increased to 471 for the class of 2012. The year before, the University accepted 454.


◆PRINCETON

Princeton University has admitted a record-low 9.25 percent of the 21,369 applicants who sought admission to the Class of 2012. Only 1,976 members of the largest applicant pool in history were offered admission in the first admissions cycle without early-decision applications.

The target size for the new class is around 1,245 students, making it roughly equal in size to the Class of 2011. The acceptance rate for that class was 9.5 percent. The waitlist has typically been as large as 1,200 students, but this year it is slightly larger in anticipation of a potential change in yield under the new process.


◆MIT

MIT admitted 1,554 students of 13,396 applicants, or a record-low 11.6 percent. There was an overall 8 percent increase in the number of applications from 12,443 last year.

To account for this increased uncertainty, around 700 students, an increase of about a hundred from last year, were waitlisted. The target size for the class of 2012 is 1,040, slightly below the 1,069 enrolled in the class of 2011.


◆STANFORD

Stanford admitted 2400 students out of 25,298 applicants for admission to the Class of 2012. Of this estimated total, 738 were admitted in December through the university's restrictive early action program. The projected overall admission rate is 9.7%, pending waitlist action and "summer melt."

For the Class of 2011, 2,465 were admitted for the Class of 2010, 2,430 were admitted; for the Class of 2009, 2,412 were admitted.


◆YALE

Yale accepted 1,892 students out of the 22,813 total early and regular applicants for the class of 2012. Yale accepted 1,007 applicants out of the 17,925 who applied regular decision in January, for a regular decision admit rate of 5.6 percent. An additional 1,052 students were offered positions on the waitlist, up 22.5 percent from last year's waitlist of 859. Out of the 4,888 students who applied early action to Yale in November, 885 were accepted for an 18.1 percent acceptance rate. The acceptance rate will increase slightly if students are accepted from the waitlist.

The total number of applications for Yale's class of 2012 increased 18 percent over last year's total of 19,323 applications. Early applications this year rose a whopping 36 percent over last year's total.




Statistics for Class of 2012


◈Ivies Plus — Class of 2012


Overall

Early Decision/Action

Regular Decision

Class of 2012
Admit
Applied
Admit Rate
Admit
Applied
Admit Rate
Admit
Applied
Admit Rate
Ivies
23,521
187,312
12.56%
4,726
18,384
25.71%
18,795
168,928
11.13%
Stanford/MIT
3,954
38,694
10.22%
1,260
8,479
14.86%
2,694
29,610
9.10%
Total
27,475
226,006
12.16%
5,986
26,863
22.28%
21,489
198,538
10.82%


◈Ivies Plus — Classes of 2010-2012


2012

2011

2010

Class of 2010-2012
Admit
Applied
Admit Rate
Admit
Applied
Admit Rate
Admit
Applied
Admit Rate
Ivies
23,521
187,312
12.56%
22,953
168,865
13.59%
18,795
162,105
11.59%
Stanford/MIT
3,954
38,694
10.22%
4,017
36,403
11.03%
3,957
33,702
11.74%
Total
27,475
226,006
12.16%
26,970
205,268
13.14%
22,752
195,807
11.62%


◈Ivy League — Class of 2012


Overall

Early Decision/Action

Regular Decision

Class of 2012
Admit
Applied
Admit Rate
Admit
Applied
Admit Rate
Admit
Applied
Admit Rate
Brown
2,742
20,630
13.29%

555
2,461
22.55%
2,187
18,169
12.04%
Columbia
2,269
22,569
10.05%
597
2,582
23.12%
1,672
19,987
8.37%
Cornell
6,735
33,011
20.40%
1,142
3,095
36.90%
5,593
29,916
18.70%
Dartmouth
2,190
16,536
13.24%
400
1,429
27.99%
1,790
15,107
11.85%
Harvard
1,948
27,462
7.09%
0
0
0.00%
1,948
27,462
7.09%
Penn
3,769
22,922
16.44%
1,147
3,929
29.19%
2,622
18,993
13.81%
Princeton
1,976
21,369
9.25%
0
0
0.00%
1,976
21,369
9.25%
Yale
1,892
22,813
8.29%
885
4,888
18.11%
1,007
17,925
5.62%
Total Ivies
23,521
187,312
12.56%
4,726
18,384
25.71%
18,795
168,928
11.13%


◈Ivy League — Classes of 2010-2012


2012

2011

2010

Class of 2010-2012
Admit
Applied
Admit Rate
Admit
Applied
Admit Rate
Admit
Applied
Admit Rate
Brown
2,742
20,630
13.29%
2,683
19,097
14.05%
2,531
18,316
13.82%
Columbia
2,269
22,569
10.05%
2,255
21,343
10.57%
2,296
19,851
11.57%
Cornell
6,735
33,011
20.40%
6,503
30,383
21.40%
6,935
28,098
24.68%
Dartmouth
2,190
16,536
13.24%
2,166
14,176
15.28%
2,186
13,938
15.68%
Harvard
1,948
27,462
7.09%
2,058
22,955
8.97%
2,124
22,754
9.33%
Penn
3,769
22,922
16.44%
3,637
22,646
16.06%
3,617
20,483
17.66%
Princeton
1,976
21,369
9.25%
1,791
18,942
9.46%
1,790
17,564
10.19%
Yale
1,892
22,813
8.29%
1,860
19,323
9.63%
1,878
21,101
8.90%
Total Ivies
23,521
187,312
12.56%
22,953
168,865
13.59%
23,357
162,105
14.41%


◈MIT and Stanford — Class of 2012


Overall

Early Round

Regular Decision

Class of 2012
Admit
Applied
Admit Rate
Admit
Applied
Admit Rate
Admit
Applied
Admit Rate
Stanford
2,400
25,298
9.49%
738
4,551
16.22%
1,662
20,142
8.25%
MIT
1,554
13,396
11.60%
522
3,928
13.29%
1,032
9,468
10.90%
Total
3,954
38,694
10.22%
1,260
8,479
14.86%
2,694
29,610
9.10%


◈MIT and Stanford — Classes of 2010-2012


2012

2011

2010

Class of 2010-2012
Admit
Applied
Admit Rate
Admit
Admit Rate
Admit Rate
Admit
Applied
Admit Rate
Stanford
2,400
25,298
9.49%
2,464
23,958
10.28%
2,444
22,333
10.94%
MIT
1,554
13,396
11.60%
1,553
12,445
12.48%
1,513
11,369
13.31%
Total
3,954
38,694
10.22%
4,017
36,403
11.03%
3,957
33,702
11.74%
Other Selective Universities
| | | | |
| --- | --- | --- | --- |
| Class of 2012 | Admitted | Applied | Admit Rate |
| Amherst | 1,096 | 7,720 | 14.20% |
| Bowdoin | 1,110 | 6,021 | 18.44% |
| Chicago | 3,461 | 12,418 | 27.87% |
| Claremont McKenna | 799 | 4,178 | 19.12% |
| Duke | 3,814 | 20,337 | 18.75% |
| Emory | 4,500 | 17,448 | 25.79% |
| Georgetown | 3,371 | 18,700 | 18.03% |
| Johns Hopkins | 3,578 | 16,606 | 21.55% |
| Middlebury | 1,450 | 7,823 | 18.54% |
| Northwestern | 6,327 | 25,027 | 25.28% |
| Notre Dame | 3,548 | 14,506 | 24.46% |
| Swarthmore | 909 | 6,118 | 14.86% |
| Vanderbilt | 4,000 | 16,875 | 23.70% |
| Williams | 1,229 | 7,538 | 16.30% |

With the 472 students who were accepted under the early-decision process, a total of 3,814 were admitted from the 20,337 high school seniors who applied to Duke. The preliminary acceptance rate of 18.8 percent is expected to increase slightly as Duke University expects to admit an additional 50 to 75 students off the waitlist in May. Of the applicants, 2,933 were accepted to the Trinity College of Arts and Sciences and 881 were admitted to the Pratt School of Engineering.

Following national trends, Emory University saw record applications from a highly competitive class. The university admitted 25.8 percent out of 17,448 applicants for the class of 2012 during regular decision admission. By comparison in 2007, 15,368 applied and 27 percent were accepted.

Georgetown admitted 3,371 students in the Class of 2012. 18,700 students applied through the early and regular decision admission processes, surpassing last year's record number of 16,168 applicants. Each of the four undergraduate schools witnessed a bump in the number of applications they received. The largest applicant spikes were in the McDonough School of Business, up 28 percent to 3,177 applications, and the School of Nursing and Health Studies, up 32 percent to 1,093 applications. Applicants to Georgetown College increased by 13.5 percent to 11,068 applications, while the number to the School of Foreign Service increased by 7 percent to 3,362 applications.

This year, Northwestern accepted 25.3 percent of applicants for admission to its class of 2012. NU received 25,027 applications, a 14 percent increase from last year, when 24.7 percent of applicants were accepted for the class of 2011. Almost 500 more students were admitted this year. The total of 6,327 admitted students includes 561 admitted under early decision.

The admissions office of Tufts offered enrollment to 25 percent out of a record 16,644 applications. This applicant pool marks a 9-percent increase from last year's 15,294. The acceptance rate is a decline from last year's 28 percent.


*
The Brown Daily Herald(sat, Aug 30,2008):
http://www.browndailyherald.com/home/
* Hernandez College Consulting: http://hernandezcollegeconsulting.com/resources/early2008statistics.html
*The Ivy Coach: http://www.theivycoach.com/ivy-league-admissions-statistics-2007-2008-2009-2010.html